Founded A.D. 2004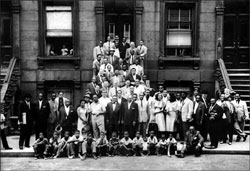 Mission Statement

Next Generation Meets the Jazz Masters, was created to bring musical genre know as jazz to the forefront of the musical heap. We endeavor to highlight the public awareness of living jazz legends in our midst while simultaneously giving exposure to young jazz Turks. Moreover, our organization will serve as an educational and ballyhooing role for jazz.
Next Generation Meets the Jazz Masters will conduct jazz master classes and forums, as well as host monthly concerts which will bring together recognized concerts jazz master musicians paired with emerging young musicians for the express purpose of generation interplay, acknowledgement, education and entertainment. Consequently, we envision creating a merry noise--and propagating the gospel of jazz.
How Your Contribution Helps
Every contribution to the Next Generation Meets the Jazz Masters is vital and urgent, and will be acknowledged in our list of sponsors. The money will go to research, staffing, drivers, maintenance of offices, the library, audio / video equipment, studio, and the regular hardship stipend to compensate those witnesses who are indigent. We have made arrangements by which individuals as well as companies and businesses can make in-kind contributions to the Archives. (All such contributions will be acknowledged in the list of funders.) Moreover, every funder or company logo will be prominently listed on our website.
Next Generation Meets the Jazz Masters is not a 501( c ) 3 organization, but we have partnered with a flow-through organization that does have 501(c) 3 status. Any tax deductable donations can be made through this 501(c) 3 partner organization. All contributions and pledges can be in the form of cash, checks, and credit/debit cards: Amex, Visa, MasterCard and Discover/Novus. We thank you for all contribution and gifts.
Make a Contribution

Next Generation Meets the Jazz Masters
410 East 64th Street
Office Suite 43
New York, NY 10065
p. 646.944.3412 / 917.330.0132 / 917.378.0549

email.
Our Heartfelt Thanks!
J. Bailey Morgan,
Chairman
New York • London • Washington, DC
Jonathan Hartman,
Artistic Director
Abijon • Accra • Addis Ababa • Amsterdam • Asmara • Athens • Beirut •
Berlin • Brussels • Budapest • Cairo • Casablanca • Chicago •
Christ Church • Colombo • Copenhagen • Dakar • Dar es Salaam •
Florence • Harare • Havana • Ho Chi Minh City • Istanbul •
Jerusalem • Johannesburg • Kingston • Kolkata • Krakow • Lagos •
London • Madrid • Mexico City • Montreal • Nairobi • New Delhi •
New Orleans • New York City • Paris • Port Au Prince • Prague •
Rio de Janeiro • Rome • San Francisco • Santo Domingo • Sao Paulo •
Stockholm • Sydney • Venice • Vienna • Washington, DC
GENERAL COUNSEL
Spiegel and Utrera, P.A., P.C. Lawyers
New York City, Miami, Fort Lauderdale
Tampa, Boca/Delray, Orlando, Los Angeles, San Francisco
Please visit our other sites:

The New Millennium Oral History Archives
The Online Museum of Catholic Faith, Culture, and Art
The Museum of Business, Commerce and Wealth
© 2004-22 Next Generation Meets the Jazz Masters. All rights reserved.